Just a few days late with the Halloween post. i've been one tired chickadee!
i took off from work for Halloween, which was nice. i did SmartyPants' and Wiseguy's Halloween parade, then Wiseguy's class party. Then picked up Wayne from work, got the kids from school (early dismissal) and then Wayne went to get two teeth pulled (yeowch!) i made the kids have some quiet time and let them veg for a little in front of the TV. i knew they were going to be up late and i also knew that after all the candy at school a nap would be out of the question and so they sat quietly and recharged their batteries in front of the ol tellie...so sue me.
Wayne came home and started dinner, swollen faced and numb lipped...the poor guy. He is quite a trooper! After dinner, the kids got back into their costumes and he let me do HIS makeup, too! When picking out the kids things he saw a makeup kit that he wanted...it included horns, too! Of course, he didn't expect that he would be having teeth pulled on Halloween, either. In spite of the pain, he allowed me to do his makeup and apply his horns. WiseGuy said he looked "Eeeevvviiiiiillllll!'
WiseGuy had decided on being a brown dog and SmartyPants quickly followed up with a black cat. Worked great since they fight like cats and dogs! When putting the costumes together i decided i was going to get things they would/could reuse. WiseGuy got brown carpenter pants, a long sleeved brown thermal top and a cheap $5 brown tshirt over top. A few white felt circles, a nose, some ears and a tail and he was a brown dog. SmartyPants got black sweat pants, a black turtleneck and a long sleeved black shirt for overtop. Add a kitty mask, a tail, some black gloves with pink felt pads on the fingertips and a pink ribbon collar with rhinestones and a bell....and you have a black cat.
Without further ado....the pics!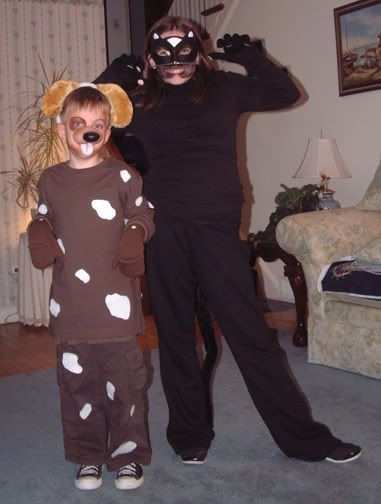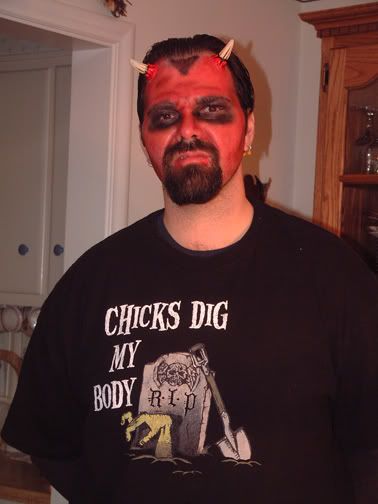 i didn't wear any costume....as a matter of fact, i never even put a drop of makeup on my face all day! Trust me when i tell you that THAT is a scary sight indeed!!!